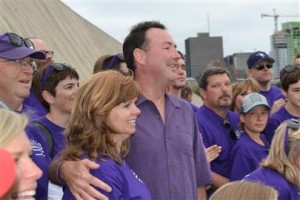 Friends & colleagues,
Forgive the solicitation.
(for the time challenged you can click here to donate and skip the narrative – lol!)
As some of you may know, about two years ago our close friend Brian Parsons was diagnosed with ALS. It's funny how three letters mean nothing until they impact someone close to you. For those familiar with ALS, you know this is a particularly devastating disease. When Michelle and I read Brian's well-crafted e-mail two years back, at first we felt "numb"; unsure what to say. The reason for the e-mail rather than a call as Brian later explained had to do with the intensity of emotions. Also, people with ALS lose their ability to speak. Calling people was not an option – too difficult and draining. We slowly started to grasp and appreciate the gravity and enormity of what Brian and Sue were up against.
Anyway, fast forward two years later, and not only has Brian done all the right things by his family (and Bono apparently) – he has managed in his spare time to become the best advocate for the disease that Canada has ever had – google his name for proof. ALS is different than most other terminal diseases. There is no chance of longevity with ALS, and as a result there is no Michael J Fox advocating for fundraising. Survival is very limited making it harder to raise money. Advocates tragically die long before they can make a difference.
Brian understands this well, and has spent his limited time wisely – focusing on friends and family first, but also applying his many talents and considerable experience as a former staffer on Parliament Hill to lobbying the Canadian Government and advocating for others who have had less of a voice than himself. His efforts have earned him the Brett Yerex Exceptional Advocacy award. https://twitter.com/BrianJParsons/status/603355505617051648/photo/1  Brian was instrumental in affecting Canadian government legislation changing the compassionate care benefit from 6 weeks to 6 months. Brian and Sue have done these amazing things together. Last year in the Walk for ALS, in their first year participating, Team Parsons was the top team in all of Canada. If you google "Brian Parsons" you will find countless press and media interviews where Brian has advocated for others. Brian, Sue and family have displayed exceptional courage and class dealing with what most of us would find unimaginable. This speaks to the quality of them as people, and also to the resilience of the human spirit.
As you can tell, I'm proud of Brian and Sue and what they have achieved and would like to play a small role to help.
This is the first time I have ever solicited for a charity. There is something about ALS that is unique. I remember asking Brian while in Las Vegas "Is there any hope?" – he gave me the honest answer – "No – there is no hope".
Imagine how much better this would have been if there was hope? I think this is why Brian fights so hard.
I am traveling to Ottawa on June 13th to support Brian, Sue and Team Parsons in this year's 2015 WALK for ALS. The Parsons family have faced this devastating disease with exceptional courage and class. Team Parsons were Canada's top team last year as I mentioned, and we need to make an even bigger impact in 2015. Please take a moment and donate to my fundraising page below for Team Parsons, or for those that are able, join me in Ottawa on June 13th and walk along with me. Together, we can make a difference for the ALS community.
I sincerely thank those who have already donated.
Any amounts however small sincerely appreciated – https://secure.e2rm.com/registrant/FundraisingPage.aspx?registrationID=2942677&langPref=en-CA#&panel1-1
——————————
Additional material below from ALS Canada:
The WALK for ALS is the largest fundraiser for the ALS Societies across Canada. It is our way to continue to raise awareness and funds for the ALS community who everyday show us the strength of the human spirit, compassion for others and the inspiration to continue to fight what is a truly terrible disease. By participating or donating to my page, you will be funding equipment and services for people living with ALS in Ontario to help them manage their journey through this disease. You will also be contributing towards research to find a treatment for ALS. Today, there is no cure.
What is ALS (amyotrophic lateral sclerosis)?
Our brain is connected to our muscles through a series of living wires called motor neurons. These motor neurons are grouped in bundles that run throughout our body to allow us to move, speak, swallow and breathe.  In ALS these motor neurons degenerate and die, which breaks the connection from the brain to the muscle leading to weakness, followed by paralysis. Eventually people affected with ALS lose their ability to breathe.
Facts about ALS
•    90% of people diagnosed with ALS have no heredity link
•    Everyday two to three Canadians die because of ALS; and everyday two to three Canadians are newly diagnosed
•    There is no treatment or cure for ALS
•    The lifespan after diagnosis is on average two to five years
•    There are currently 2500 to 3000 Canadians living with ALS
Please Join me in supporting the ALS community with a secure online donation using your credit card. This year's goal is to raise $2.25 million. Together we can reach this goal!
For more information about ALS or the ALS Society of Canada, visit als.ca
Thanks for your support.
Event Date
Jun 13, 2015 10:00 AM
Location Name
OTTAWA WALK for ALS
My Team
Gordon is part of Team Parsons
View Team Page