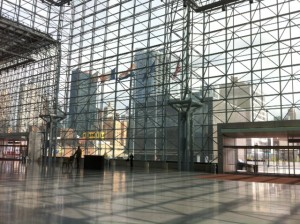 Last week I got to attend Strata in New York which was pretty cool with my IBM friends and approximately 10,000 big data geeks. (I was not among the geeks of course! 🙂 )
BigInsights has come a long way and is an impressive Hadoop distribution. To explain the reasons, I took a crack at a technical blog and a slideshare presentation pointing out ten important things that are in BigInsights that simply don't exist in your father's Hadoop distro.  There are many solutions in the Hadoop world I know, but I think this is worth a look.
Stay tuned for even more compelling information next week as we make news and new announcements @ IBM's annual Insight Conference in Las Vegas.
If you're interested, the slides are posted at slideshare.net below and already received 1,000 views, and the blog is posted on IBM's ibmbigdatahub.com. I would welcome comments or critiques. If you're interested in trying your hand at Hadoop, and want to download a free starter edition that can be run on a VM or baremetal, visit http://ibm.com/hadoop and download our free QuickStart Edition.