With the closing of Falcona Camp, I transcribed the words from Falcona Taps into a printable poster as a Christmas gift for my parents.
A few friends have since asked for a copy. If you are interested in getting a framed copy of the poster yourself, here are the relevant files with instructions below.
Kind thanks to Gary George at the YMCA who took the time to share the words from Taps as it existed on a poster in the Falcona lodge during the 70's and 80's. (I appreciate that Taps has evolved)
Before you read on, if you're a previous Falcona camper, you might want to check out my Mom's  CBC interview as she says farewell to Falcona – http://www.cbc.ca/news/canada/sudbury/falcona-camp-sudbury-closing-1.4442368 
The Files
Source 12×18 inch Adobe Illustrator Document – This is a zipped file containing the source Adobe Illustrator document. You will need this file if you want to modify the graphics or text on the poster. You will need a copy of Adobe Illustrator to use this file. If you are happy with the poster as it is, you are better to use one of the two files below.
High-resolution 12×18 inch PDF poster – If the print service you are using requires a high-resolution PDF file, please use this file saved from the Adobe Illustrator original.
High-resolution 3600×5400 (12×18) JPG file – If the print service you are using requires a JPEG file (as Staples does), use this JPEG image created from the original Adobe Illustrator file. The graphic is produced at 300 dpi (dots-per-inch) for high print quality.
Ordering Copies of the Poster
There are many excellent places to get posters printed online. Among them are:
I chose Staples because I've had posters printed there before and they are inexpensive compared to some services.
Assuming you order a print of the poster from Staples:
Under "Products", select "Posters"
Select a 12″ x 18″ poster
Use the "Upload your own" option and select "Create a Poster"
Unless you already have a Staples account, select "proceed as Guest" and proceed to enter your name, e-mail address and select a store
Next, you will be invited to add or upload a new image. Select a "portrait" orientation for the photo as shown in the screen capture below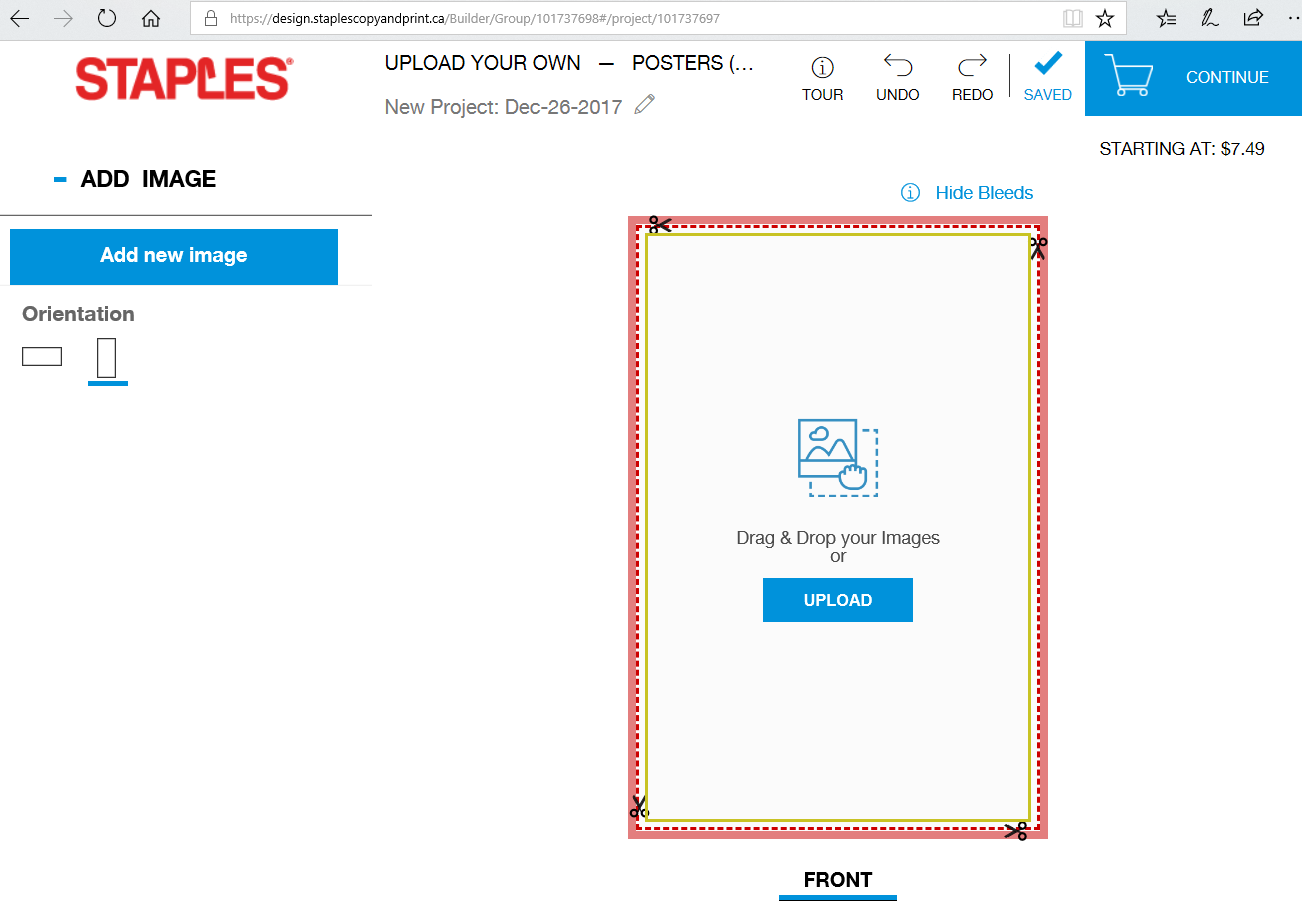 Click on upload and select the third file in the list of files of above (the high resolution JPEG) – Staples requires a JPEG and not a PDF.
Once you upload the file, you should see a screen like the one below. You should not need to select "scale to fit" if you have done this properly. The picture should exactly fit as shown below.  If you are knowledgeable about publishing, please be advised that the "bleed" on these posters is zero since unlike a photo the margin is all white space.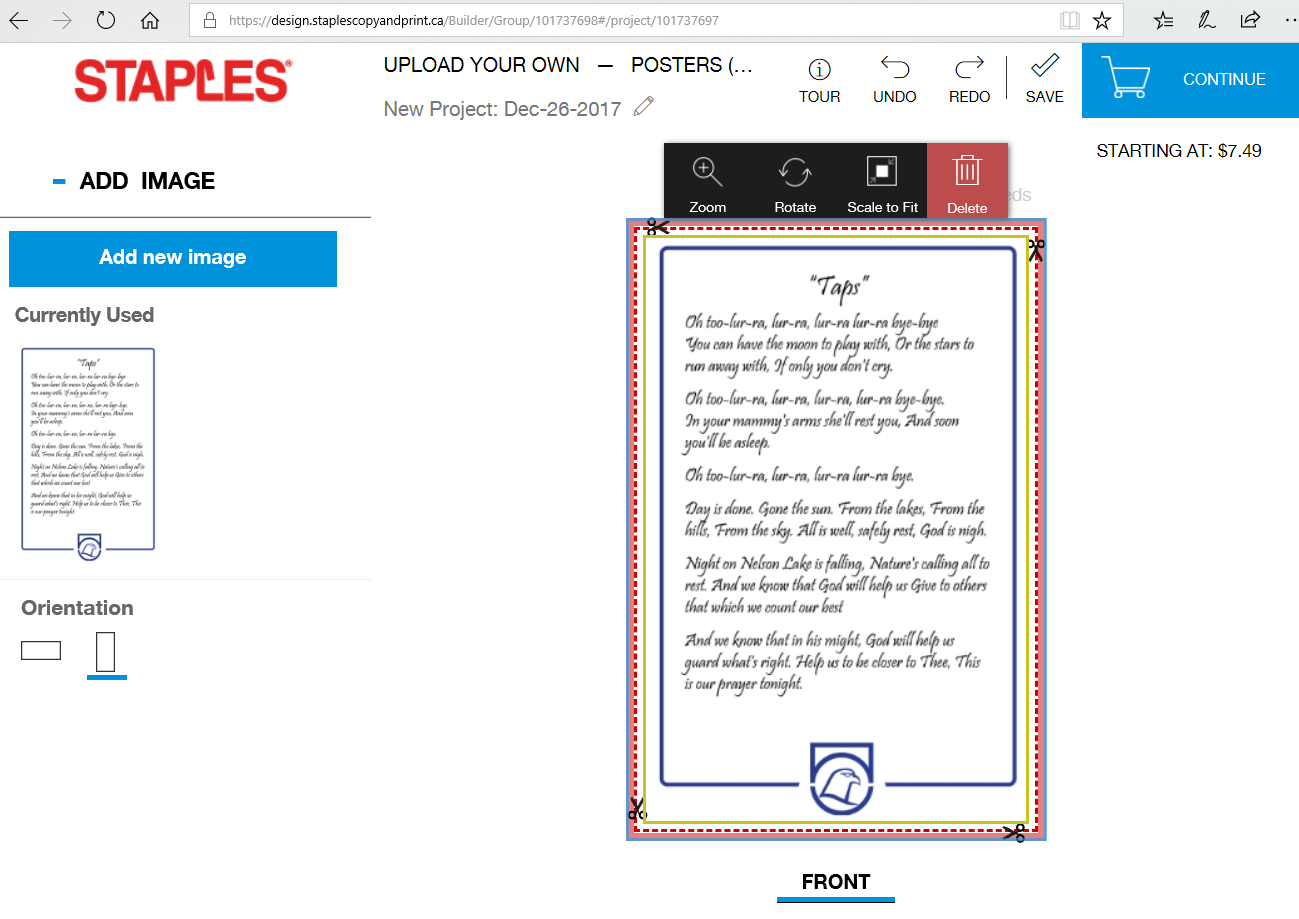 After this, proceed through the next steps and purchase the poster. Staples will allow you to pick up the picture or will ship it to your home for a fee.
Purchasing a Frame
Some stores stock 12″x18″ frames, but I couldn't find a local store that had the right frame in stock. I ended up ordering this relatively inexpensive frame online at amazon.ca. (For friends in the US, I'm sure this and other frames are available on amazon.com)
If you order a different frame, please be aware that a matte is not required. Make sure that any frame you order is able to fully expose the full 12×18 poster. I needed to trim the printed picture with scissors by 1/8″ before it would fit properly in the frame but otherwise it worked perfectly.
Alternatives
Different print services may require that graphics be rendered in different formats. I've provided the original source file, a PDF sample and a high-res JPG sample. If you need a different format, you should be able to render the graphic you need from Illustrator. If you're not familiar with Illustrator, and need a different format, I might be willing to help. 🙂
Copyrights
Proceed with confidence that you have full rights to this image. I offer these files freely without restriction to anyone who cares to use them. There is no copyright on Taps. The words are crowd-sourced, and variations of the same words exist at various camps across North America.